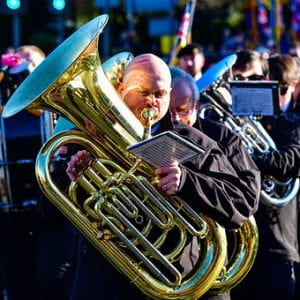 .  
.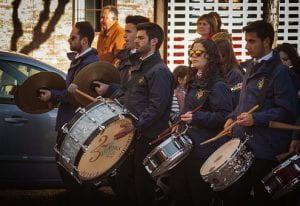 Hello Music Friends – it was wonderful to see all of you in the parade this past week and thanks for all the beautiful signs and waving! This weeks music lesson is going to focus on using Brain Pop Jr for PreK-2 and Brain Pop for 3-6 – so we will be utilizing a bit of technology, but in both settings there are creative off-line opportunities as well.
Here is the sign-in information for both:
Username:   LeverettMusic
Password:    Create20!
For my PreK, K, First and Second Grade Friends,
This week friends we are going to be exploring Brain-Pop Junior – I have given everyone the link on the side in the PK-2 links for exploration. I would love for you to watch the movie about Percussion Instruments -( Remember that percussion instruments are instruments we Strike, Shake, or Scrape.) Then take the Easy or the Hard quiz- whichever challenge you wish and finally try playing the Sortify Game – see how you do!
For offline activites – see if you can create the percussion glasses and figure out why they sound different. You can create a video of your glass instruments and send it to me – I love hearing and seeing your creations! And finally, see if you can figure out why the cartoon below is funny. (Parents this activity can take anywhere from 15-30 minutes depending upon your child's interest in completing the off-line composition portion.)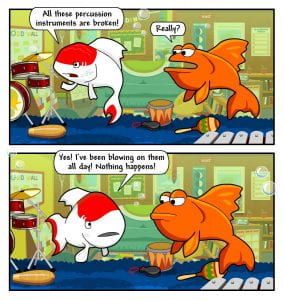 For My Third through Sixth Graders
This week friends we are going to be exploring and creating in Brain-Pop Arts and Music –Melody and Harmony. I have given everyone the link on the side in the 3-6 links for exploration. Please watch the movie and take the quiz – I'm curious to see how you do – please you send your results to renauld@leverettschool.org.
Next, choose one of the related reading blocks that interests you. My favorites are the Myths and the Flora and Fauna. I would also like you to explore the One Man Band game and see what kind of creation you can come up with – there is a lot of instruments to choose from!
If you have technical difficulties of any kind accessing the website, please let me know via email….I'd also love to hear your opinions on if this website was fun, engaging or not!